Description
Stainless steel 13 Piece Set, shiny finish, detachable handles from Mutine collection. A must have in the kitchen, Mutine Stainless steel 13 Piece Set contains:
- 2 qt Saucepan + lid
- 3 qt Saucepan + lid
- 7.5 qt Stockpot + lid
- 11" frying pan
- 3.5 qt Sauté pan
- 2 Long Handles (Black)
- 2 Side Handles (Black)
The detachable handle system provides the ability to nest cookware vessels to save space in drawers, cabinets and in the dishwasher.
Thanks to the efficiency of their CRISTEL® thermo-diffuser base, compatible with induction, the Mutine Detachable handle system fits all kitchen sizes and will be a valuable ally for all your culinary preparations. Practical, the detachable handle system makes it possible to transform your stainless steel vessel into a serving dish by replacing the long handle with side handles.
Mutine cookware, is made of stainless steel 18/10, preserves the taste of your food and is easy to clean after cooking. 
Certified Made in France, BV Cert. 6019453.
Weights and dimensions
Characteristics
Stainless steel 18/10 – shiny finish
Stainless steel is oven safe up to 550°F
Glass lids are oven safe up to 400°F
Detachable handle
Welded system for greater control
Saucepan Mutine construction
Rounded, tempered-glass lid to monitor food
Made in France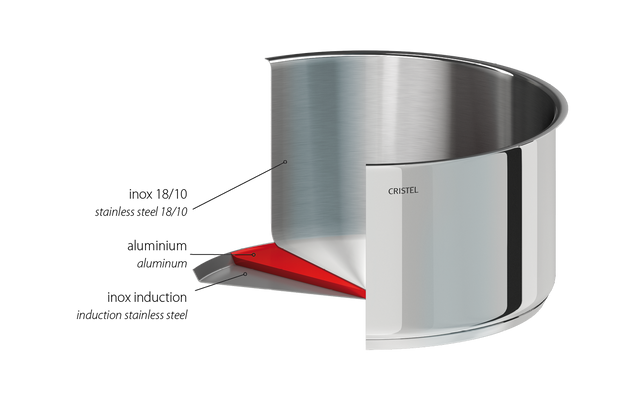 Mutine
collection
A complete collection of saucepans, stock pots, cooking-pots, frying pans and sauté pans, with an induction-compatible heat-diffusing base, polished to a unique mirror-finish.