Description
Stainless steel 2 Piece Set, shiny finish, detachable handles from Mutine collection. A must have in the kitchen, Mutine Stainless steel 2 Piece Set contains:
10" stainless steel frying pan
8" non-stick coating frying pan
The detachable handle system allows a perfect stacking of Cristel cookware to save space in drawers, cabinets and in the dishwasher. Thanks to the efficiency of their Cristel thermo-diffuser base, compatible with induction, the Mutine Detachable handle system fits all kitchen sizes and will be a valuable ally for all your culinary preparations. Practical, the detachable handle system makes it possible to transform your stainless steel vessel into a serving dish by replacing the long handle with short handles.
Mutine cookware, is made of stainless steel 18/10, preserves the taste of your food and is easy to clean after cooking.
Certified Made in France, BV Cert. 6019453.
Weights and dimensions
Characteristics
Stainless steel 18/10 – shiny finish
Oven safe up to 350 degrees Fahrenheit (stainless steel)
Exceliss non-stick coating without PFOA
Detachable handle (sold separately)
Welded system for greater control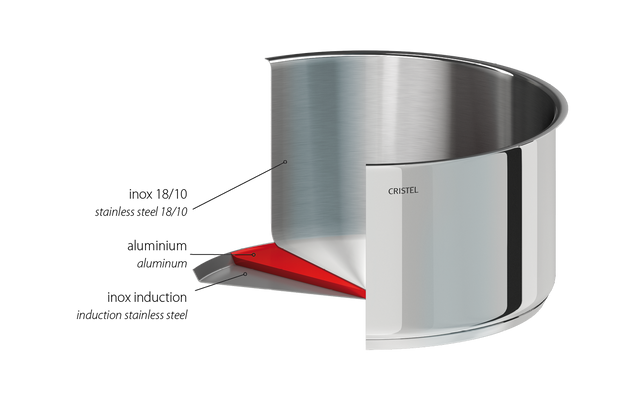 Mutine
collection
A complete collection of saucepans, stock pots, cooking-pots, frying pans and sauté pans, with an induction-compatible heat-diffusing base, polished to a unique mirror-finish.