Description
What's better than cooking with products designed by the greatest chefs in the world? This is the challenge we chose to take up. We met renowned Michelin-starred chefs, and we imagined and designed these products in collaboration with them, so that they meet the requirements of the greatest professionals.
Castel'Pro® stainless steel Saucepan is ideal for everything from simmering sauces and making custards to boiling pasta and heating soup. It comes in six different sizes.
STRENGTH AND LIGHTNESS
Thanks to its patended ULTRAPLY® light technology, Castel'Pro® stainless steel cookware features robust yet lightweight 5-ply construction, which makes it very easy to use in the kitchen.
HIGHLY RESPONSIVE AND PRECISE
The 5-ply construction reinforced with aluminum core provides exceptional thermal efficiency, even heat and no hot spots. The highly responsive cooking surface heats up and cools down rapidly, providing excellent control on the stovetop.
EASY TO GRIP AND STAY COOL HANDLE
The athermic solid stainless-steel handle, perfectly fixed to the body of the pan thanks to stainless rivets, does not retain heat. Its ergonomic design provides an easy and pleasant grip.
PRESERVE NUTRIENTS AND VITAMINS
CRISTEL® ULTRAPLY® light technology allows gentle cooking techniques (fat free/low temperature cooking) which preserve vitamins, texture of the food, color and enhance flavors.
COOK TASTY AND FLAVORFUL SAUCES
Sauces are essential in cooking. They will intensify flavors, add moisture and visual appeal to your dishes. This is why we created that unique rounded shape of the pan to facilitate whisking and stirring that are necessary to cook the most delicate and tasty sauces.
Weights and dimensions
Ø Diameter *

8.7"

Ø of the base

5.7"

Length

17.1"

Total height

2.4 "

Width

9.3"
* Dimensions of the upper part of the item from inner edge to inner edge
Characteristics
Optimized for induction cooking, but works wonderfully on all heat sources
Rounded shape facilitates cleaning of your product
Wide-edge rims for efficient pouring and no risk of oxydation (no aluminum in contact of the air)
Inner graduations for quantity control
Handle(s) riveted for strength and intensive use
Castel'Pro® construction: 3 layers of aluminum (including a layer of reinforced aluminum) sandwiched between solid, polished 18/10 stainless-steel in the inside and 18/0 stainless-steel in the outside (to be induction compatible)
Stainless steel 18/10 – shiny finish
Oven safe up to 550°F
Measurement markings inside in both Quarts and Liters
Stainless steel double riveted system for greater control
Saucepan Ultraply® base
Made in France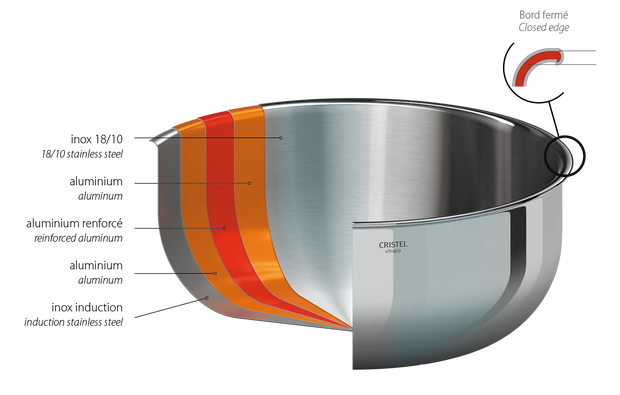 Castel'Pro Ultraply
collection
Castel'Pro Ultraply Collection - Collection of culinary items created with gastronomic professionals for Chefs and gourmets.