Description
Casteline Non-stick Crepe Pan 18/10, shiny exterior finish, detachable handle, with Exceliss® non-stick coating from Casteline collection.
The non-stick Crepe pan comes in large 12" size for sweet or savory crepes, pancakes and pizzas. The extra-flat profile of the Casteline crepe pan allows pancakes, crepes, pizzas and even eggs to easy slide on to a plate.
Detachable handles sold separately. Certified Made in France, BV Cert. 6019453.
Weights and dimensions
Ø Diameter *

12.0"

Ø of the base

9.4"

Length

14.0"

Total height

2.4 "
* Dimensions of the upper part of the item from inner edge to inner edge
Characteristics
Stainless steel 18/10 – shiny finish
Exceliss® non-stick coating
Detachable handle (sold separately)
Welded system for greater control
Exceliss®+ Mutine construction Fryingpan
Made in France
Oven safe up to 450°F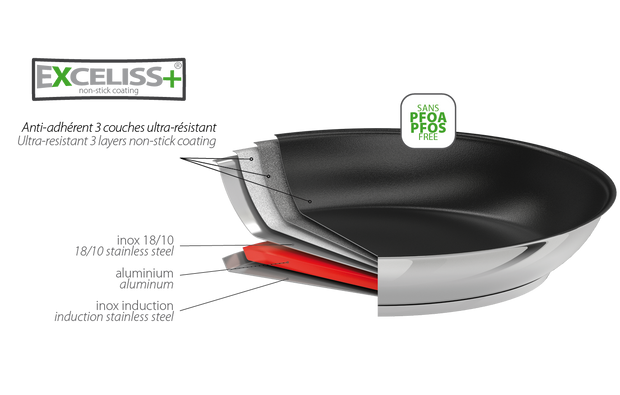 Casteline
collection
A complete collection of saucepans, stock pots, cooking-pots, frying pans and sauté pans, with an induction-compatible heat-diffusing base, polished to a unique mirror-finish.